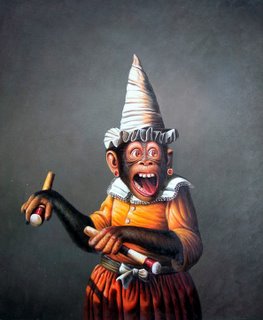 "Our studio is located in Xiamen, the biggest painting center in the world, now about 20 percent of oil painting in the world are from Xiamen, and over 7,000 artists live and work here. Our studio has more than 20 signed artist and they can paint all kinds of painting."
And all 7,000 of them were on strange Chinese medication when they produced
this delightful work
, entitled "The Lovely Monkey"